A few weeks ago I was called by a friend. He told me a very interesting story. He was just googling some HTML tags and searched for img src and img src html. He clicked in Google to search for images with these keywords and was stunned what was shown next. Photos from scantily clad kids in the search results everywhere: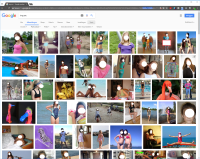 He also searched for img src and img src html on Bing and DuckDuckGo to see what would happen. Same results there: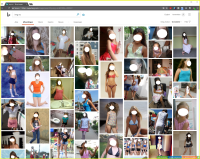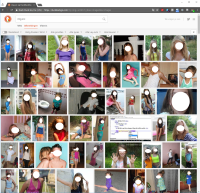 Swim and sport photos or minors, beach photos, private intimate family photos, 'sexy looking' selfies of kids. Photos on which the skin is visible from thin and tight swim clothing. This is disgusting! It made me feel really bad that photos of these kids where collected by dirty pedophiles on the internet to pleasure their own pedophilic sexual desire. And Google facilitates all this with a neat interface.
What was going on here??
Why is Google, Bing and DuckDuckGo showing these almost naked photos of under-age kids when searching for some generic HTML image tag? This is very weird behavior! That friend called me to help trace what was happening here. So I started analyzing the situation to see if I could be of any help here.
The photos Google Images is showing originate from all kinds of different sites, such as usseek.com, pinterest.com, taipreschool.com and imagesbrazil.com. What I quickly found out, is that these images had one thing in common: in the description of the image the reference to imgsrc.ru was made. Apparently all these images originate from that site, and were copied to other sites that left the reference.
Disclaimer
Don't visit imgsrc.ru as images hosted on this site can be classified as child pornography and this is illegal in most countries. The site also hosts malware.
TL;DR
By doing simple HTML tag search in Google, Bing, or DuckDuckGo for 'img src' or 'img src html' you'll get results of half naked children. The rabbit hole points back to a very large Russian image hosting company with 21.61 million visits per month.
Some interesting statistics arise:
8 categories are full of pictures of minors.
Those 8 categories host 4,361,962 pictures in 128,293 albums (73%).
57 categories host mostly normal photos.
Those 57 categories host 1,612,042 pictures in 47,413 albums (27%).
Let that sink in for a moment: 4.3 million photos of kids that pedophiles shared with each other. This is a very big operation going on here! 73% of all the albums on imgsrc.ru are pedophilic oriented.
This resulted in RTL News publishing the following story on national Dutch Tv about the phenomenon: